Weather is a funny old thing, huh? Almost universally, the seasonal outlook for winter 2022 was average to warm, like the last one or two seasons. And fall certainly lived up to that, the second warmest in recent years. Unusually, Mt Hutt saw its early season snow wiped out by high temperatures and hot winds, as did Ruapehu.
But then Australia gets hammered with up to 1m of snow, in June! And the ski areas are opening. Best opening snow in decades! And even though this storm hasn't really happened in New Zealand, there's a new one on the way, you've no doubt heard about it. Incoming!
Excuses …
Before we get to that, a warning and an apology. We've had a few things here at snow.nz so we're way behind on updating the site. The good news is that we're here, and we're about to roll out our 2022 forecast data from a new weather provider, which should be much more accurate than our previous provider, Yr.no. In the meantime, as we all know, we are looking at a variety of resources, ranging from Windy.com to snow-forecast.com and opensnow.com.
It happens!
We also love Metvuw and their latest charts tell the story, we're about to get hammered!
Think cold temperatures, low freezing, and tons of precipitation in most places. Basically it's the blizzard that will set up New Zealand's ski areas for winter 2022. And usually when we start like that and the base is established early in the season, then with snowmaking and more natural snow, we get a great season. So it looks VERY good!
NIWA has a good animation of what's to come.
But how much?
Well, we all know from experience that the weather in New Zealand doesn't always deliver what it promises, and that's certainly true in terms of snow. Some forecasters struggle during large events and often overestimate the amount of snowfall. It's great for load levels, but less ideal when that "Japanese-sized snowfall" doesn't materialize.
Either way, all snow is good snow, so let's see what a few of the top providers are saying. We subscribe to OpenSnow, and it's worth it because you get a 10-day view of the forecast. And it's quite tasty! We also stick to the 9-day-only subscriber forecast from Snow-forecast.com. Here's what they both have to say. Crazy numbers? Yes!
Area

OpenSnow.
1-5 days

OpenSnow.
6-10 days

OpenSnow.
total of 10 days

Snow forecast.
total of 9 days

Whakapapa

46cm

157cm

203cm

71cm

Turoa

43cm

155cm

198cm

61cm

Mount Hutt

30cm

38cm

68cm

75cm

acute cone

51cm

64cm

115cm

234cm

cardrona

33cm

38cm

71cm

104cm

crown peak

33cm

51cm

84cm

118cm

The Remarkables

30cm

56cm

86cm

104cm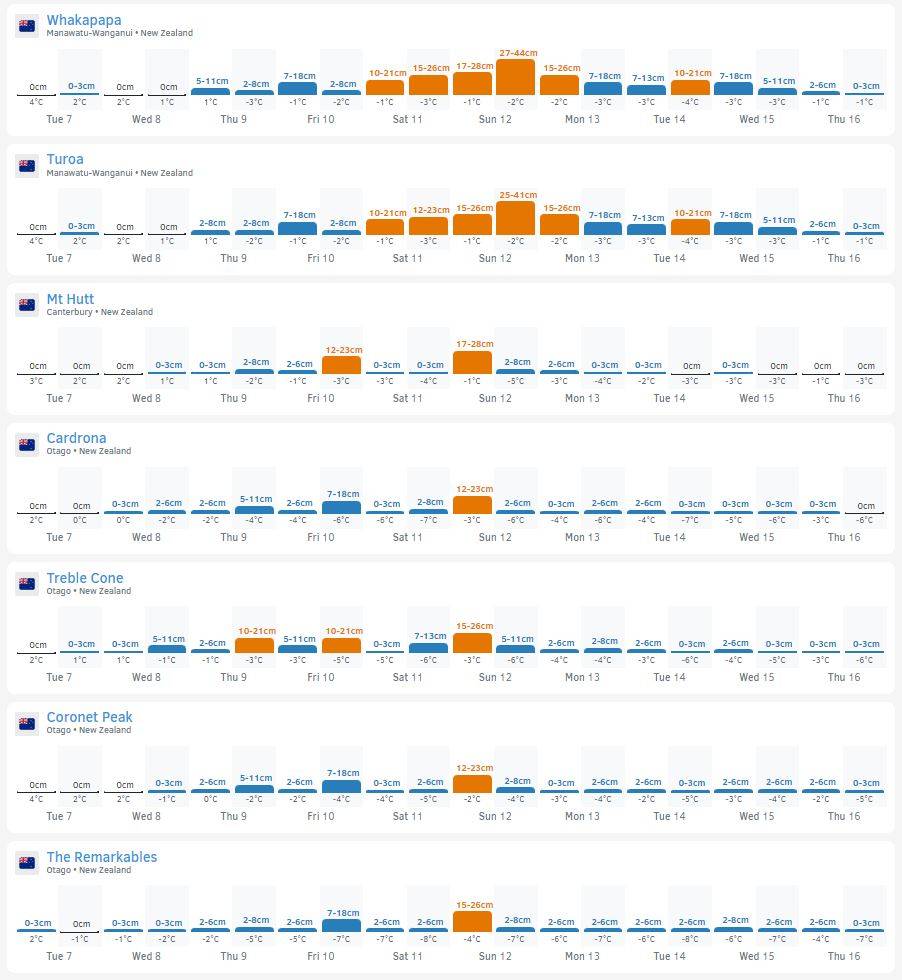 So among the larger areas, Whakapapa or Treble Cone could be the big winners. But when you also include the smaller areas, and of course you should (!), Rainbow sits up to 241cm, and Temple Basin at 399cm!
Area

OpenSnow.
1-5 days

OpenSnow.
6 -10 days

OpenSnow.
total of 10 days

Snow forecast.
total of 9 days

Rainbow

86cm

155cm

241cm

195cm

Temple basin

193cm

206cm

399cm

344cm

Ohoo

66cm

66cm

132cm

193cm
Oh good?
These are virtually unprecedented predictions for ski resorts in New Zealand. But will predicted snow levels materialize? Maybe not at some of the higher forecasts, but they're both consistent enough to say there will be snow, and lots of it, guaranteed!
In the meantime, keep an eye on the snow reports and see how much it's falling! Good news also for mobile users, we hope to release a new version of the app with additional features, which we are sure you will love.
While Happy Valley in Whakapapa is now open, this snowfall should see a number of other areas able to kick off. Yesiree, the 2022 ski season for New Zealand is on!