A major winter storm is targeting northern Ontario and southern Manitoba to end this week, while southern regions enjoy one last day of sunshine and warmth before colder temperatures and snow squalls lake effect does not intensify.
A strong Colorado low brings everything from snow to prolonged freezing rain and sleet to the north, threatening travel across much of the region. Some areas can see more than 30cm of snow after all, along with high winds that could lead to dangerous whiteout conditions and possible road closures.
In regions hardest hit by freezing rain, ice accumulation of 2 to 5+ mm may occur on untreated surfaces. Drivers are urged to consider postponing non-essential travel until conditions improve. More information on timing and impacts below.
---
WATCH: A snowstorm and a tropical system will collide in eastern Canada
---
Thursday to Saturday: A powerful winter storm spreads heavy snow and ice
A strong warm front will move sideways across northeastern Ontario on Thursday and Friday, producing a 20°C fracture across Lake Superior.
Rain began Wednesday over much of the region, with the northern edge of the system turning to snow as we headed into the day Thursday.
---
DON'T MISS: Freezing weather is inevitable. Here's what you need to prepare
---
By Thursday evening, the rain will change to snowfall in Northwestern Ontario and to freezing rain and periods of snow in parts of the Northeast.
The heaviest band of snow is forecast for Lake Nipigon, Geraldton, Kapuskasing and western Quebec, where 20 to 40 cm could fall by the time all is said and done through Saturday morning.
Heavy snowfall will also target southern Manitoba, where snowfall warnings are in effect for southeastern portions of the province for a potential 10 to 20 cm by the end of the system. The communities of Killarney, Morden, Winkler and Steinbach are included in the snowfall warnings.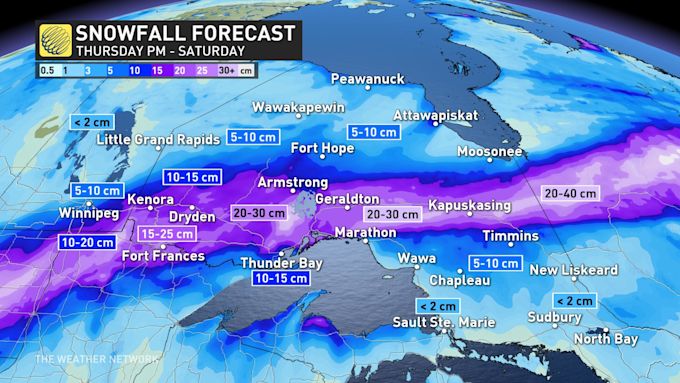 Large-scale blowing snow and snowdrifts are also likely with the windy conditions accompanying the system, which threatens whiteouts and possible road closures.
"Rapid accumulation of snow will make travel difficult," Environment and Climate Change Canada (ECCC) says in the snow warning issued for parts of the region. "Visibility can sometimes be suddenly reduced in heavy snow. Surfaces such as highways, roads, sidewalks and parking lots can become difficult to navigate due to snow accumulation. If visibility is reduced during driving, slow down, watch the taillights and be ready to stop."
The threat of freezing rain will be south of the heaviest snow zone, causing the greatest risk in Wawa, Chapleau and Timmins. Freezing rain will begin to form Thursday evening and will persist through Friday before ending Friday night.
It is possible that some areas reach and even exceed two centimeters of ice accumulation on untreated surfaces. It will also make for dangerous road conditions, especially if it is the first major freezing rain event of the season.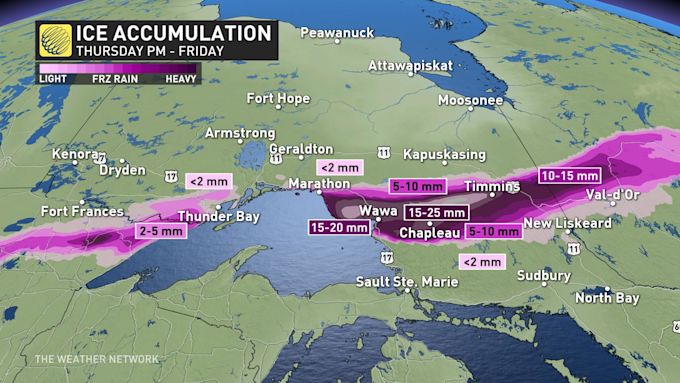 "Consider postponing non-essential travel until conditions improve," warns ECCC. "Beware of branches or electrical wires that could break under the weight of the ice. Power outages can occur."
Additional snow showers are expected early next week as colder-than-seasonal temperatures are expected to dominate through late November.
The southern warming trend will continue to bring mid to late teen daytime highs across much of southern Ontario through Friday, but with a major pattern shift also expected to begin this week-end.
Be sure to check for the latest weather updates across Ontario.