Saturday, June 11, 2022, 8:37 p.m. – On Sunday, there will be a risk of severe thunderstorms in the southern Prairies. A new storm arrives on Monday with significant rainfall possible for some areas.
Sunday is shaping up to be a stormy day for the southern Prairies, with a threat of severe thunderstorms spreading across the Highway 1 corridor from Calgary to Winnipeg. Another system arriving on Monday will bring significant and widespread heavy rain to the region, with an extended period of very heavy rain possible in Alberta through the middle of the week. More on what to expect in the coming days below.
---
Visit our complete Summer 2022 guide for an in-depth look at summer predictions, tips for planning it, and more!
---
SUNDAY: POSSIBLE SEVERE THUNDERSTORMS FROM CALGARY TO WINNIPEG
A widespread risk of thunderstorms will spread over the Prairies for our day Sunday.
There should be enough energy for some thunderstorms to reach severe limits in southern parts of Alberta, Saskatchewan and Manitoba, including the entire Highway 1 corridor between Calgary and Winnipeg.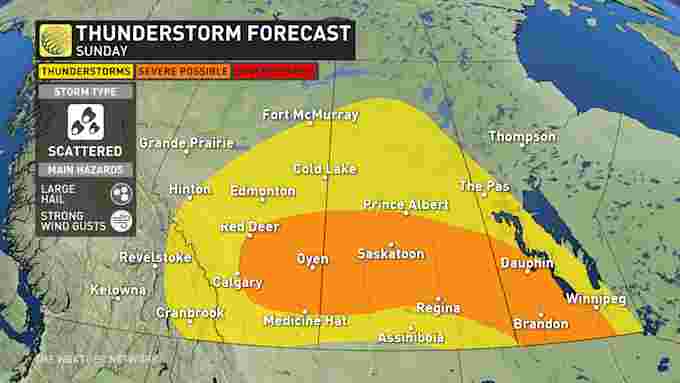 The most severe thunderstorms in this region could produce large hail and strong wind gusts. A rotation cannot be ruled out.
Beyond Sunday's storm threat, we need to start anticipating the next major storm system that will arrive early next week.
---
DON'T MISS: Doctors say thunderstorms can trigger asthma. Here are some possible reasons
---
MONDAY TO WEDNESDAY: THE MAJOR SYSTEM IS APPROACHING FROM THE WEST
Special weather reports are in effect for the foothills of Alberta, including the city of Calgary, ahead of the major storm that hits the Prairies this weekend.
"A long-lasting rain event will impact the eastern slopes of the Rocky Mountains on Monday and Tuesday," Environment and Climate Change Canada (ECCC) said in its statement. "Monitor your local forecasts and warnings for the most up-to-date information."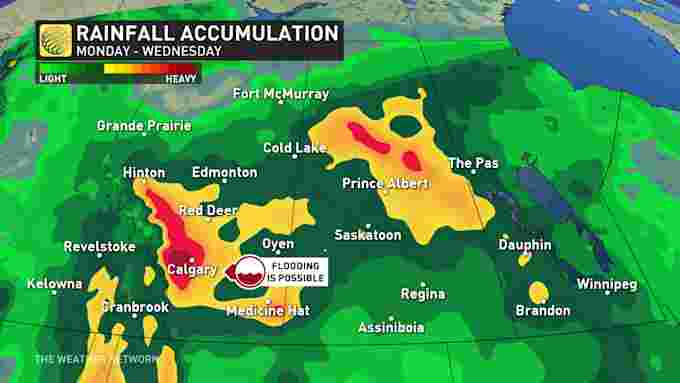 A low pressure system will cross the border on Monday and snake over the central Prairies for several days. This low will bring abundant amounts of precipitation to some areas, with the largest totals likely targeting the foothills of southern Alberta.
Persistent updrafts will fuel torrential rains from Monday through Wednesday in some areas. We can expect significant precipitation totals following this prolonged rain event. Stay alert to the potential for flooding in certain areas.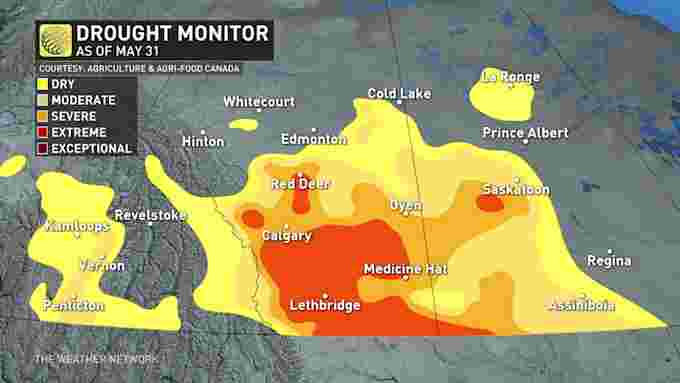 This region could definitely benefit from the rain—we're mired in exceptionally dry conditions in the western Prairies—but too much rain all at once isn't quite the solution.
---
SEE ALSO: Everyone needs a home emergency kit. Here's what to store yours
---
WATCH: PRAIRIE FARMERS BATTLE BOTH DROUGHT AND FLOODS THIS SPRING