As winds and waves rage through a prolonged storm on the Outer Banks, causing traffic delays on NC 12 and ferry cancellations, the National Park Service was busy Tuesday morning dealing with another collapsed house.
Cape Hatteras National Seashore officials confirmed Tuesday morning that the unoccupied structure at 24235 Ocean Drive in Rodanthe had collapsed overnight.
"The collapse of the house at 24235 Ocean Drive was accelerated by the prolonged storm system that has affected the Outer Banks since Sunday," Michael Barber, public affairs manager for Cape Hatteras National Seashore, told Coastal Review.
Related: Storm Unleashes Big Waves
A nearby house at 24183 Ocean Drive collapsed on an oceanfront property on February 9. Debris from that house spread across miles of beach before the owner – and volunteers at an organized beach clean-up event – could remove much of it. Efforts to clean up small debris related to the February 9 house collapse continue.
The beach along Ocean Drive in Rodanthe has been closed since February to protect the public from the dangers associated with the collapsed old house and because there are other houses in the area that could collapse.
"Unfortunately, more homes may collapse on Seashore beaches in the near future," David Hallac, superintendent of eastern North Carolina National Parks, said in a statement. "We proactively contacted property owners along Ocean Drive in Rodanthe after the first house collapse and recommended that action be taken to prevent the collapse and impacts to the Cape Hatteras National Seashore."
Barber added that since the winter of this year, waterfront officials have been aware of several homes in imminent danger of collapse along Ocean Drive in Rodanthe. The beach adjacent to Ocean Drive has been closed to all access since the previous house collapsed in February.
The park service said it was committed to working with the owner of the home that collapsed on Tuesday to coordinate the cleanup. Visitors planning to pick up debris should place piles above the high tide line so they don't get washed into the ocean.
Visitors should exercise caution when participating in recreational activities on the beach and in the ocean along Hatteras Island, as debris spreads widely along the shoreline.
Delayed trip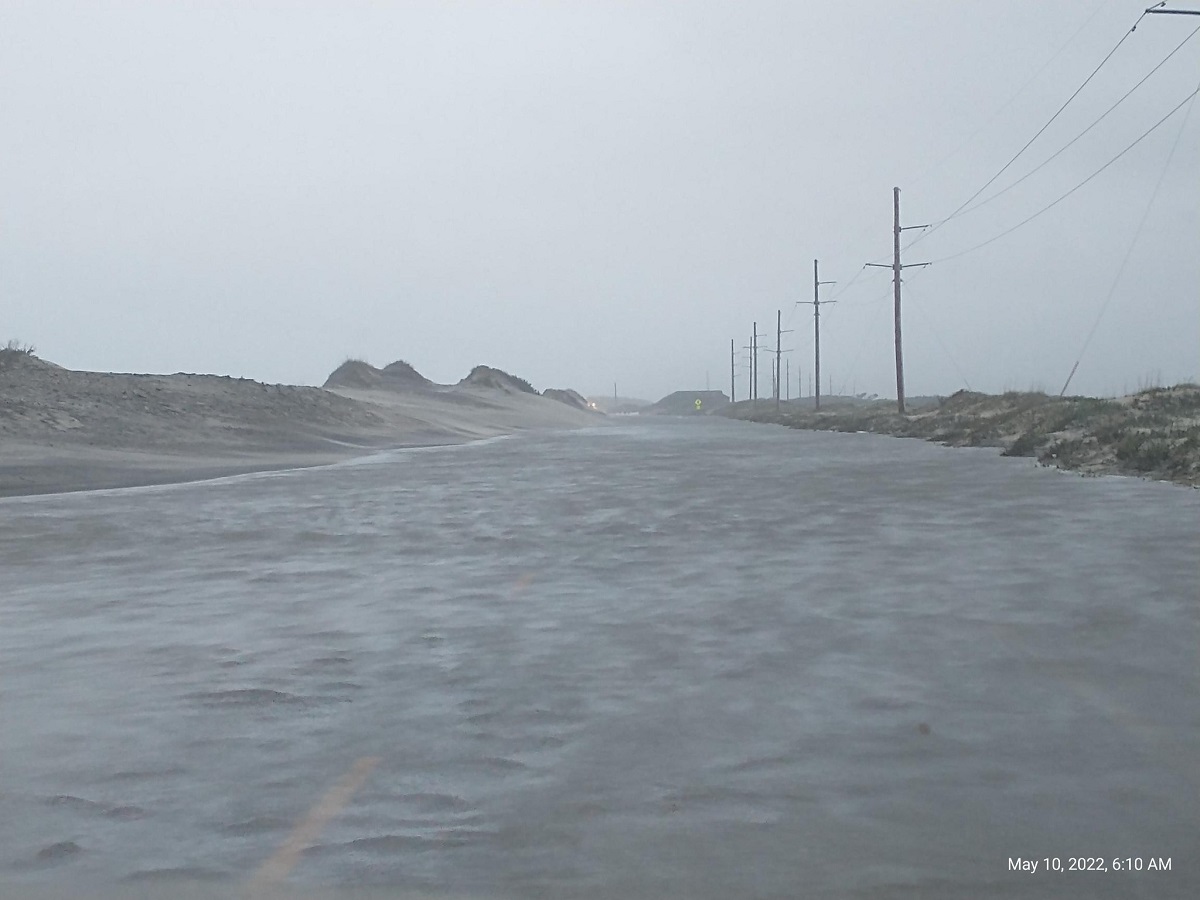 As predicted by the National Weather Service on Sunday, the Outer Banks experienced a long period of strong winds and high waves, which led to coastal flooding and ocean overflow north of Cape Hatteras through Wednesday.
The North Carolina Department of Transportation warned earlier this week via its social media to expect travel delays and other complications due to inclement weather.
Since Sunday, ferry connections have been suspended or delayed. Around 10 a.m. Tuesday, all Outer Banks routes were suspended along with the Cherry Branch-Minnesott Beach route on the Neuse River due to high water levels there, according to ferry division officials.
The storm also affected NC 12, the Outer Banks Highway. According to NCDOT's social media NC 12 on Tuesday morning, the overnight high tide was the worst so far for this storm.
"NC12 remains CLOSED between Oregon Inlet and Rodanthe as deep sand and water covers large sections of the roadway. At Buxton and Hatteras there is deep water and sand on the road. While passable, it's not something you should go through unless absolutely necessary," the post read. "If you live on Hatteras Island, today is a day to stay off the roads and wait for the weather to calm down and our crews to do their jobs."
NCDOT crews will clear the road as soon as conditions permit, and officials hope to reopen the road on Tuesday at some point. "But again, the next high tide, around 3.30am this afternoon, could be as bad as this morning."
Prior to Tuesday's closure, NC 12 experienced light flooding at Pea Island, Mirlo Beach and Buxton on Monday morning, but the highway remained open at that time. By 1 p.m. Monday, the freeway was passable although there was blown sand on the pavement and some runoff.