September 25, 2022
Sunday morning update
The weather system moving through today pushed slightly warmer air this morning with some light showers. The main impulse will be with a strong cold front this afternoon and evening. The storm timeline and live radar are below.
It looks like a few storms will occur anytime after 1 p.m. These will come with the risk of damaging winds, large hail and even a tornado. There may therefore be a watch issued for the region and/or local warnings for individual cells. Exterior shots may require a plan B approach to play it safe.
Further, we must observe the progress of Tropical Storm Ian. It's expected to become a major hurricane before reaching Florida (track continues to move west) and then bring heavy rain next weekend.
Morning temperatures
Still cool this morning with most of the area in the 50s and under cloud cover.
Morning surface weather
A warm front is moving with a line of showers along the Maryland-Pennsylvania border. More rain to the north with this initial pulse. Several lines of storms will form today ahead of and with the cold front spreading across the rest of our region.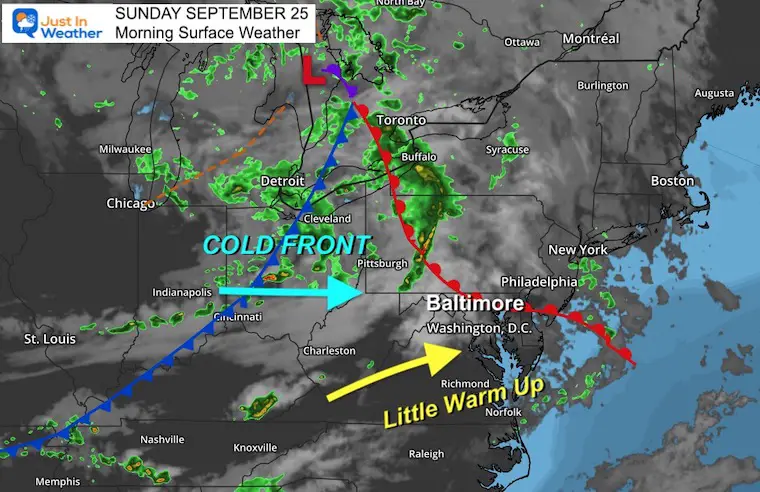 NOAA Severe Storm Hazard
Most of the region is at risk of severe storms. To be considered severe and warrant a watch or warning, it must contain winds greater than 58 mph, hail greater than 1 inch in diameter, and or even have an isolated tornado. Torrential downpours are possible but brief. Lighting is a risk with any storm, even if it's not severe.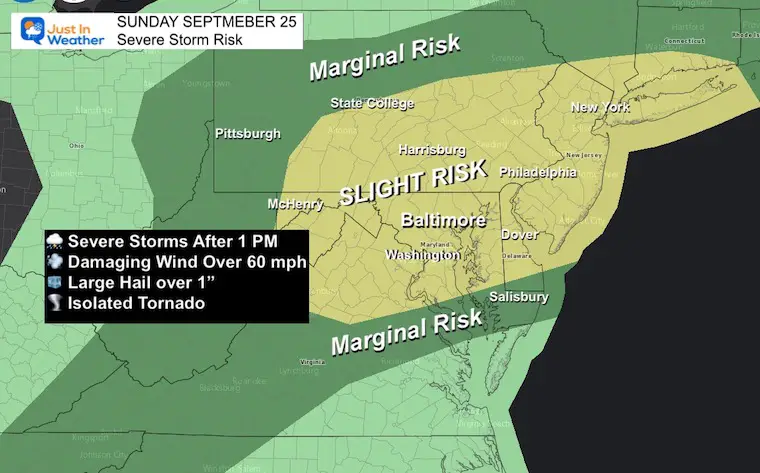 LIVE RADAR WIDGET
Radar display and lighting. Morning showers will be along the Maryland and Pennsylvania line with heavier cells over the mountains and north of the border.
The second push is probably after noon.
Radar simulator
Please note that this product often underestimated rainfall coverage and intensity and slower/later than verification.
HRRR entertainment: 12 p.m. to 11 p.m.
We should consider a risk of thunderstorms at any time this afternoon… Especially after 2 p.m. in metropolitan areas. This may persist until midnight on the Lower East Coast.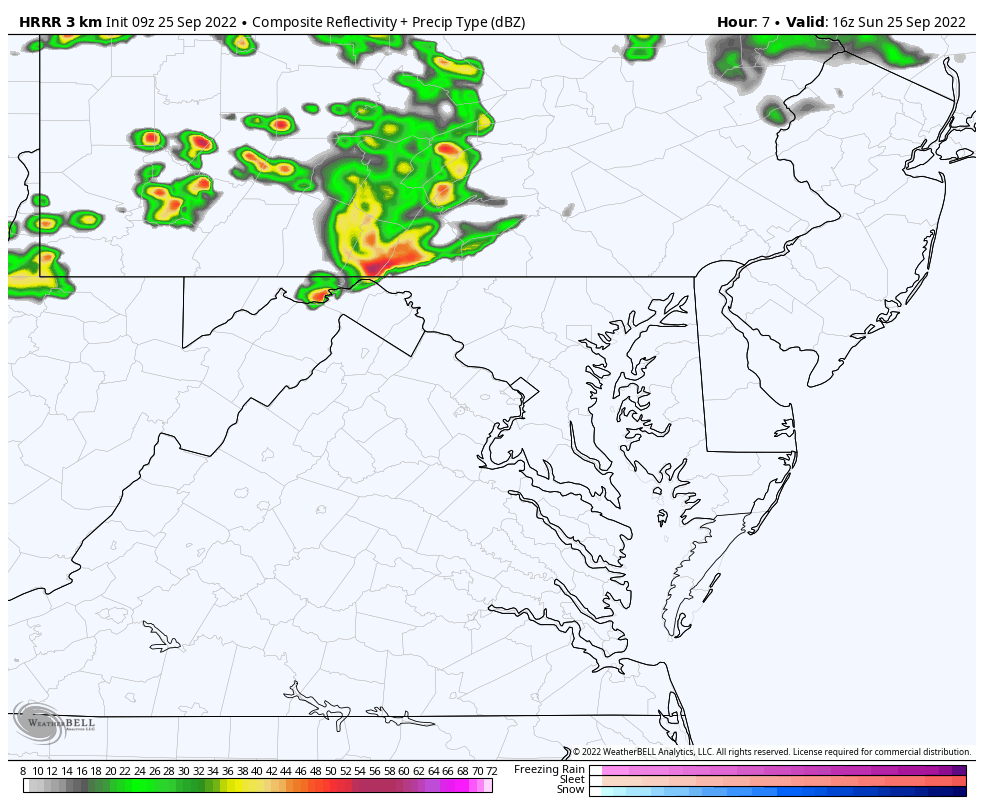 Timeline slider—> Animation HRRR: 12:00 p.m. to 11:00 p.m.
This is the same as above with you controlling snapshots.
Consider a buffer about 1 hour earlier than indicated.
September 25-weather-storm-radar-forecast-sunday-pm-12
September 25-weather-storm-radar-sunday-pm-1
September 25-weather-storm-radar-sunday-pm-2
September 25-weather-storm-radar-sunday-pm-3
September 25-weather-storm-radar-sunday-pm-4
September 25-weather-storm-radar-sunday-pm-5
September 25-weather-storm-radar-sunday-pm-6
September 25-weather-storm-radar-sunday-pm-7
September 25-weather-storm-radar-sunday-pm-8
September 25-weather-storm-radar-sunday-pm-9
September 25-weather-storm-radar-sunday-pm-10
25-september-weather-storm-radar-sunday-pm-11
Afternoon temperatures

In case you missed it…
That thing in the Saturday night sky
Space X had a rocket launch and it was seen all over the Mid-Atlantic region. This was the first video I was able to upload to Facebook, and I realize many of you may have missed it. So this is it. I hope you will have the opportunity to see the comments. There are many additional videos and photos, I've lost count. But more are added and it's amazing to see both the different perspectives and reactions.
CLIMATE DATA
TODAY September 25
Normal low in Baltimore: 55ºF
Record 35ºF in 1963
Baltimore normal high: 76°F
Record 97ºF 1970
Weather messages straight to your inbox
Sign up and be the first informed!
When is the typical first frost?
Average Freeze and Freeze Dates in Maryland and Pennsylvania
Monday temperatures
Morning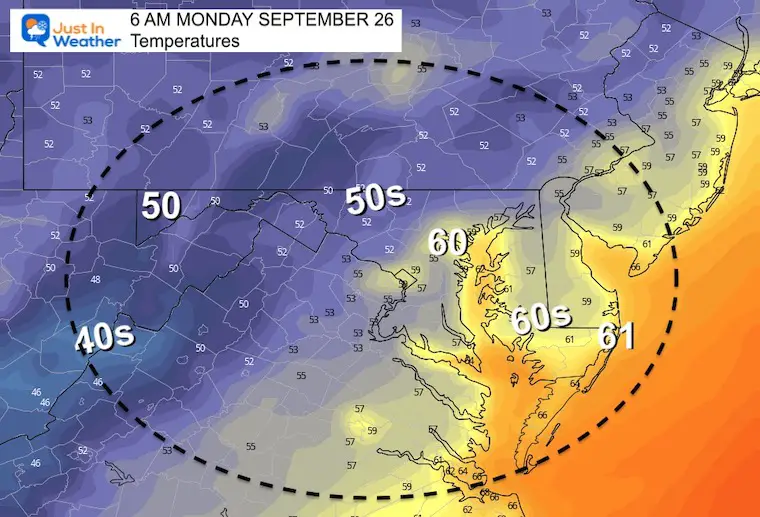 Afternoon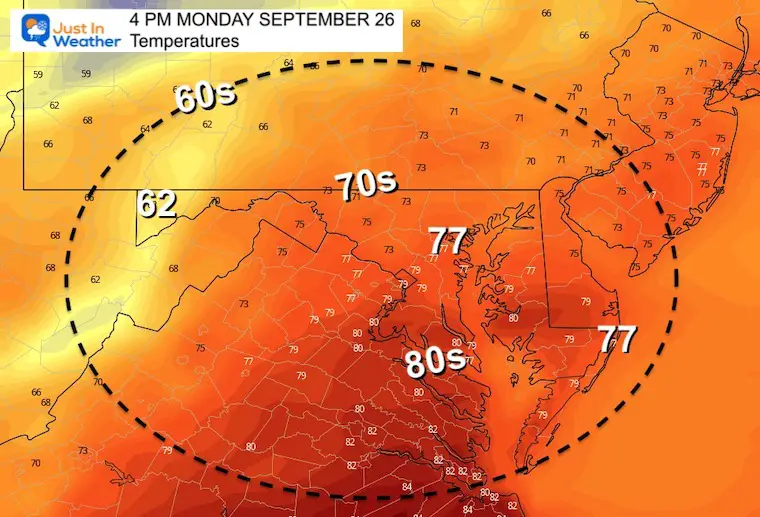 Tropical Storm Ian: Sunday Morning Update
Long term forecast for Ian
SFP model
From Thursday afternoon to Sunday evening
The track continues to move west and the GFS is one of the more westerly. This adjustment brings more rain for us next Saturday, and it now lingers into Sunday.
Also note: We will be in a freezing air mass, so despite the remnants of a tropical system, we should have freezing rain.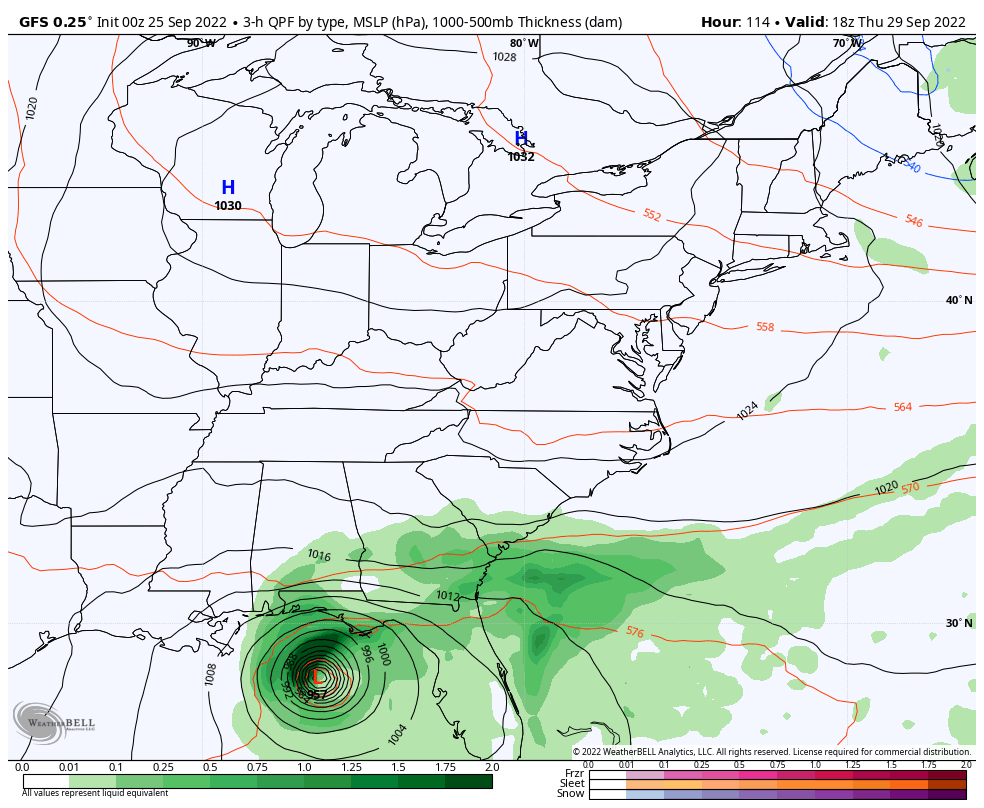 7-day forecast
Most of next week will be dry and seasonal, trending cooler. Next weekend's rainfall will depend on Ian's behavior. A slight adjustment of the runway to touchdown will determine how strong and how much moisture it can push inland.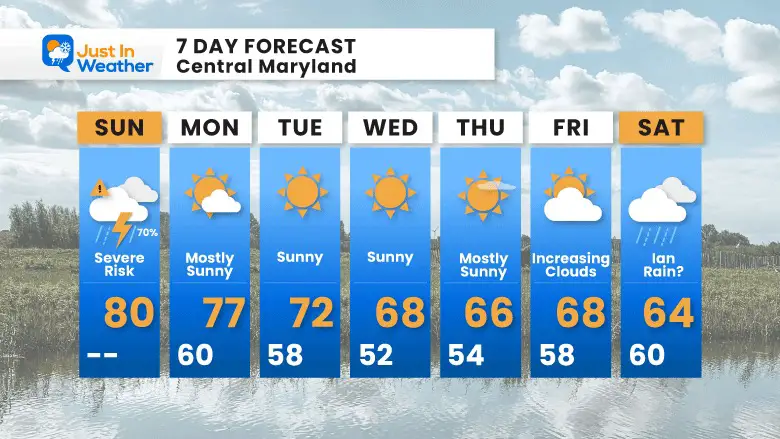 COMPARE TO
PAST

If you want a snowy winter, a busy tropical season AFTER a quiet August has already done it.
August record for unnamed tropical storms: Take a closer look at the snow that follows
Similar Items
NOAA study: Reduced air pollution INCREASE in tropical storms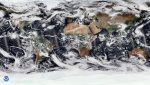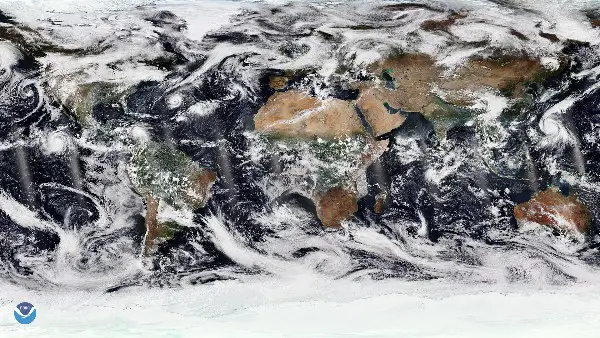 Atlantic Tropical History: 10-Day Home Region Maps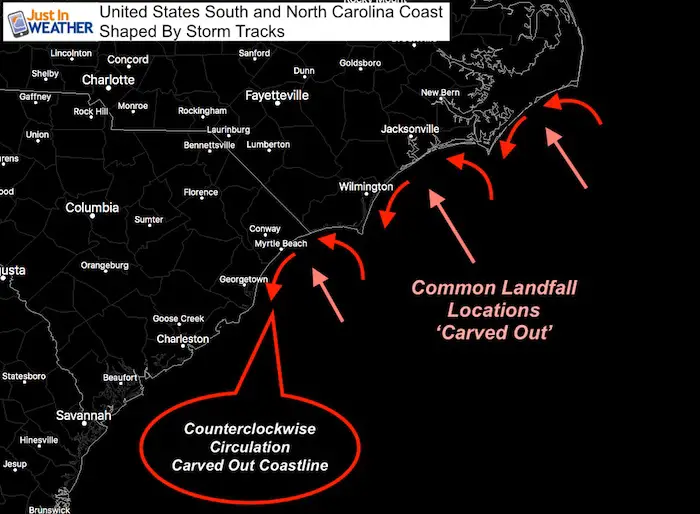 In case you missed it: Sow the outlook for early winter
Winter 2023 Outlook La Niña Triple Dip Expectations
Winter 2023 outlook First look at the snow from two Farmer's Almanacs
Please share your thoughts, best weather photos/videos, or just stay in touch via social media