When I think of the hike Adam and I hiked Wheeler Mountain on Jan. 9, the first thing that comes to mind is the perfect feather print on fresh snow.
We emerged from a grove of trees to a snowy ledge and, etched in the snow, were the wingspan and claw marks of a raptor. You might think the wing prints would leave divots in the snow, but the lift of the wings slightly lifts the snow, creating delicate (and powerful) sculpted lines.
That day, this feeling of being very close to something extraordinary was powerful. The wind was whipping, filling our tracks almost immediately, and I knew this large bird had taken flight moments before we cleared the trees.
The Eagle Rock Lookout on Wheeler Mountain offers stunning views of Mount Pisgah, Lake Willoughby, Burke Mountain, and the White Mountains. In winter, the scene is even more spellbinding; add to that a 3:30 a.m. arrival time, with the sun setting on the western horizon, and you have a hauntingly beautiful outing.
Times were in the single digits and as we entered Eagle Rock the wind hit with biting force. I had forgotten my phone at home, so Adam had full responsibility for documenting the outing. I soaked myself in the contrasts of snow and rock, dark mountains edged in white, the lake below us a yin and yang of clear ice and blown snow.
As we left the lookout, the shining gold of the fading daylight was erased by the trees, but we also left the wind behind us. The Mount Wheeler ridge hike offers several beautiful lookouts, and we lingered at a few to take in the views.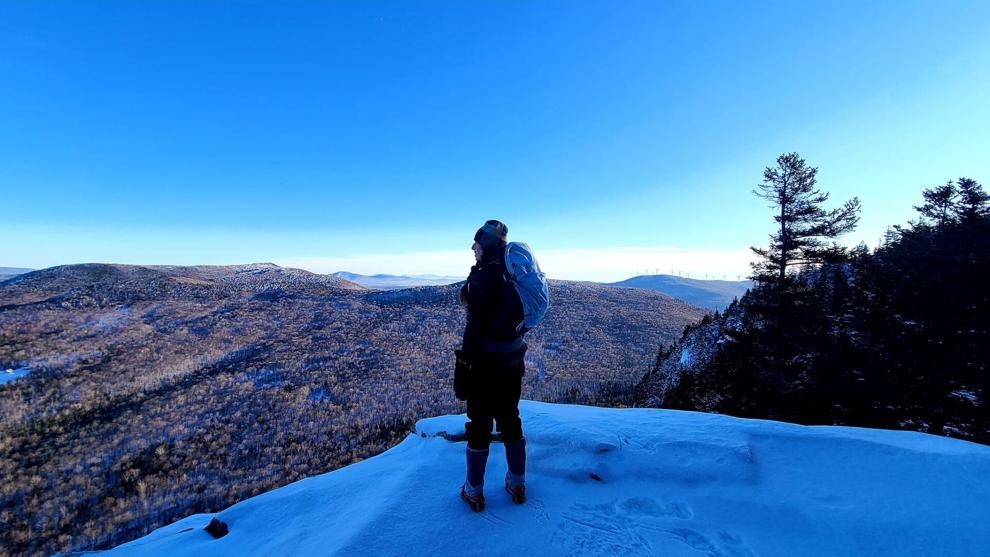 From windswept glades to a snow winter wonderland: At the back of the mountain, where the forest was sheltered from the prevailing winds, the branches were piled high with glistening snow. Stray rays of sunlight illuminated thousands of snowflakes as they drifted through the air.
The final stretch of the hike winds through open deciduous forest; in summer, the canopy of trees obscures the view, but in winter, the leafless forest provides an almost constant view of Wheeler Mountain's soaring face. That day, the waning glow of the setting sun painted the snow-capped rocks a pastel pink and the rising moon sparkled above our heads. It was hard to keep walking when all I wanted to do was keep watching!
A lot of beauty and a lot of oblivion: We reached the car as the last rays of the sun disappeared. We had started the outing with a comedy of errors – I had forgotten my phone (which is my camera), Adam had forgotten his watch and I had forgotten to charge mine (which died when we reached the car ). We had almost bailed out that day, but damn it, I was glad we didn't. There is something haunting, beautiful and rejuvenating about a late afternoon winter hike, even if you can't photograph it yourself!