The Blizzard of 2022 is over.
However, digging continued on Sunday with quiet and increasingly mild weather en route for a few days. It was an official blizzard in many communities – including Boston, Worcester, Beverly and Martha's Vineyard – which experienced at least three hours of near whiteout.
The storm more or less unfolded as expected. The heaviest snowfall occurred in Boston to the south, as well as most areas around the Highway 495 belt to the east, all of which saw at least a foot. The snow was much lighter in western Massachusetts, too far from the center of the storm.
Bands of heavy snow continued to swirl across eastern Massachusetts for much of the storm, racking up impressive measurements that at times increased by 3 inches per hour. The wind whipped the snow into drifts – but it also brought the flakes together, making the density of what was on the ground a bit tighter than it would have been without a lot of wind.
The storm produced the largest one-day snowfall total in Boston and the seventh-largest snowstorm. The total monthly snowfall – just over 3 feet – is the eighth highest on record for a month and the fourth snowiest January.
Indeed, January 2022 will be a snowy start and a bit colder than any other year.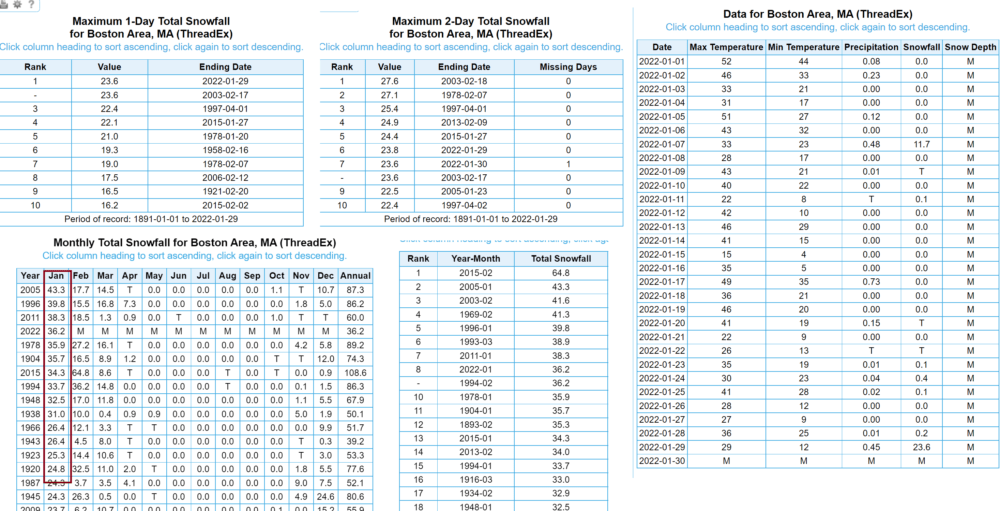 With fresh snow cover and light winds, temperatures will drop towards zero on Sunday evening in the coldest places but recover quickly on Monday under the increasingly strong January sun. The melt will take place by Tuesday as readings return to the 30s.
Our next storm system will actually bring rain towards the end of the week. But it is noticeably colder heading into the coming weekend.