Today's highs came in at 82-87. I didn't include the Kokomo Municipal Airport elevation because that weather station had been down for days and just came back around 3pm today. So there is a potential that he missed the high temperature and I want to ensure pinpoint accuracy with this map.
I should pick up the highs from the Logansport-Cass County airport tomorrow. The station had major problems with the dew point sensor. After evaluation over the past week to ensure data quality, it appears to be working accurately. Staff may have replaced the sensor.
A cold front of short waves (colder pocket at upper level) and of weak surface will pass on Wednesday, causing the cumulus clouds to bubble and causing a few or a few brief showers/isolated showers.
Winds will be southwest becoming west to northwest (increasing to 14-26 mph) with low humidity (dew points 50-60) and highs 82-87 (after stratocumulus cumulus and cumulus in the morning with lows of 60 to 65).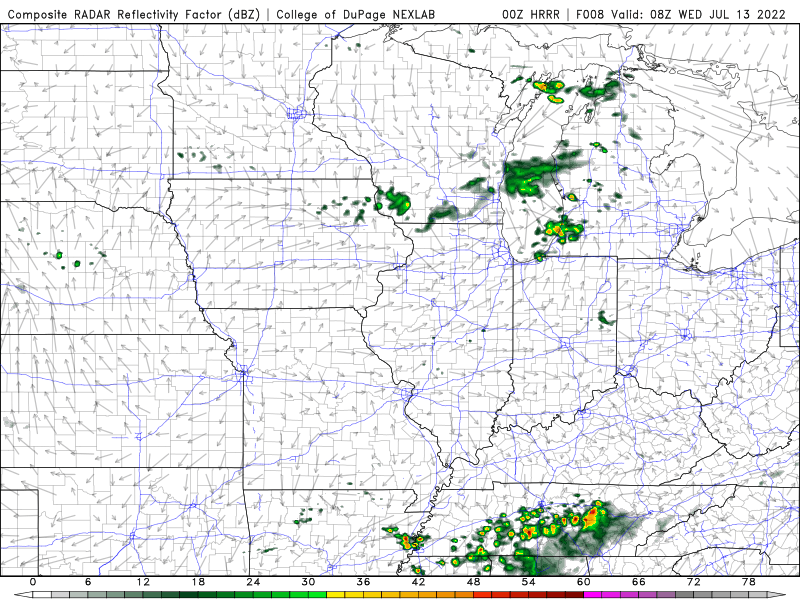 After clear skies and lows of 55-60 tomorrow evening, Thursday, there will be plenty of sunshine with just a few flat "fair weather" cumulus humilis and highs of 80-85. Winds will blow northwest to north-northwest at 10-22 mph. Humidity will be low with dew points in the 40s and 50s.
On Friday, high and medium clouds will increase as the surface warm front arrives.
Highs of 83-89 are likely with dew points of 55-60 dropping to 64-67 later in the day with the wind shifting from east-southeast to south-southwest at 8-15 mph .
Morning lows will be between 53 and 59.
Here the joker…..
If the thunderstorm cluster lasts long enough, it would bring rain on Friday and make for a cooler day here. We will monitor.
Preliminary thought is that it will crumble, but we get the wreckage of it.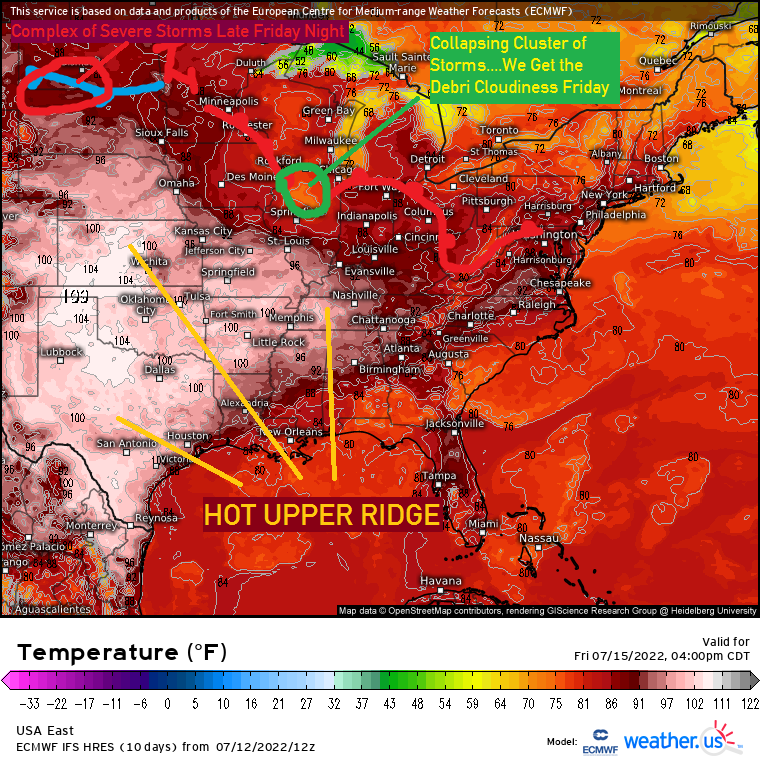 Lows 66-71 are likely Friday evening with skies becoming partly cloudy.
As for Saturday, the upper warm ridge will extend northeastward and the warm front should be north of our region.
Highs of 88-95 are expected with heat indices of 96-106 as the humidity will rise with south-southwesterly winds at 10-23 mph.
As for Saturday, we need to watch for a series of possible thunderstorms from Saturday night to Sunday morning.
The potential is there for an integrated severe storm or two. The absence of shear and stronger wind fields aloft remaining to the north of our area preclude a higher risk of severe weather here. It seems MARGINAL to SLIGHT low end at this point.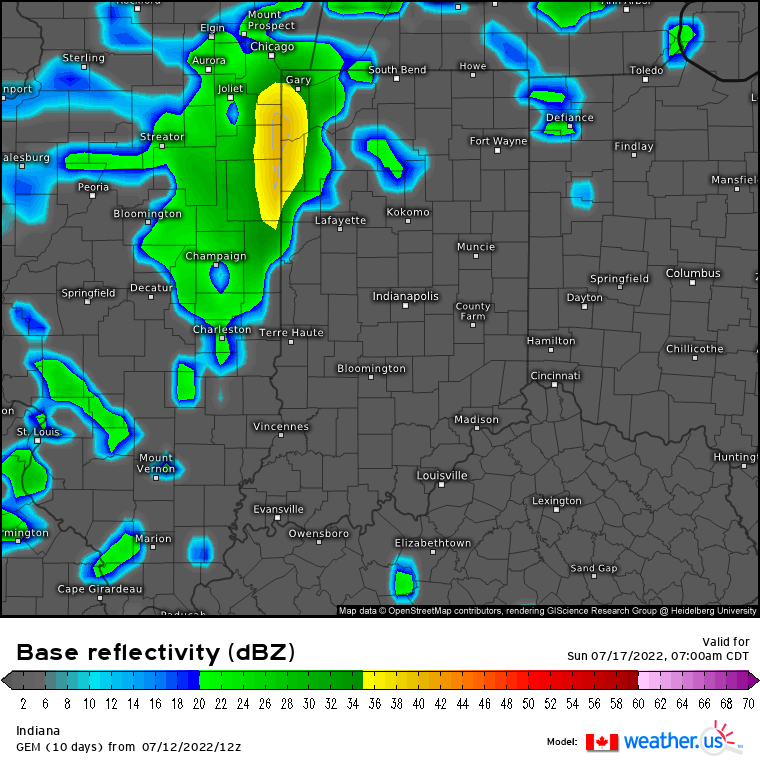 85-90 is likely Sunday with humid conditions with partly cloudy skies. 66-70 Sunday night will give way to 88-93 Monday. Heat indices are expected to jump to 96-104.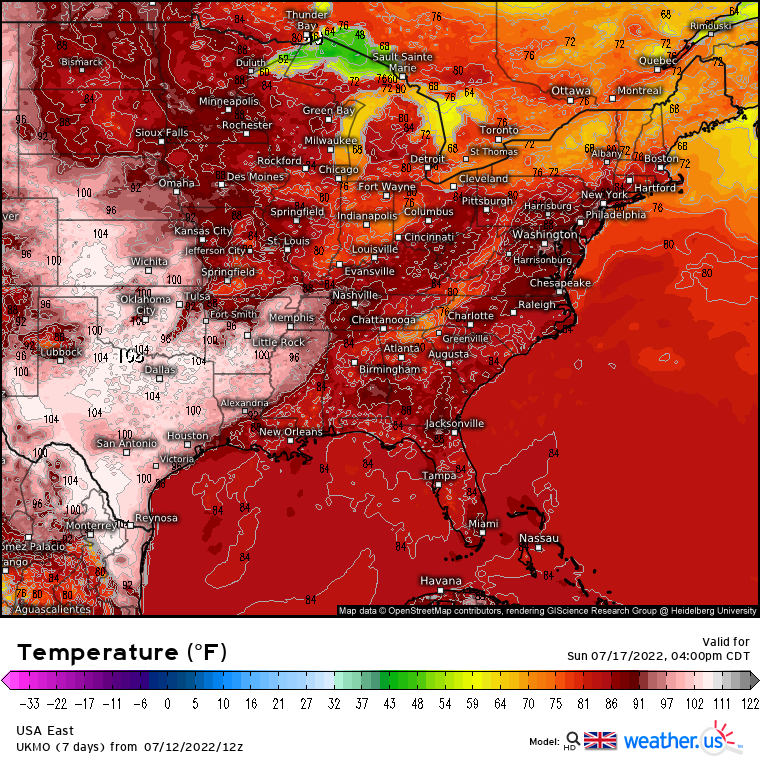 More intense heat arrives on Tuesday as the ridge expands northeast with highs 91-96. Heat indices can reach 98-109 with sunshine.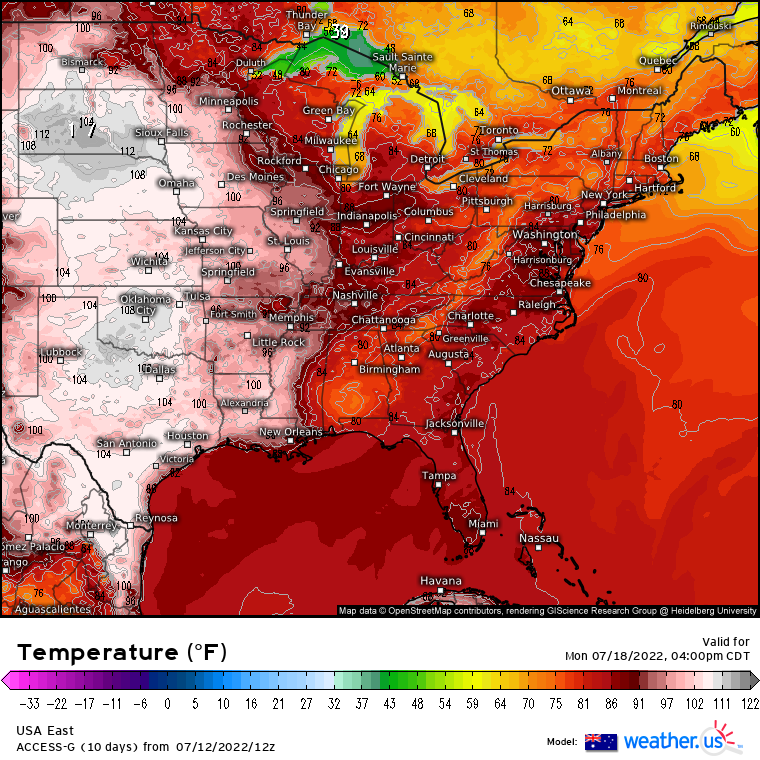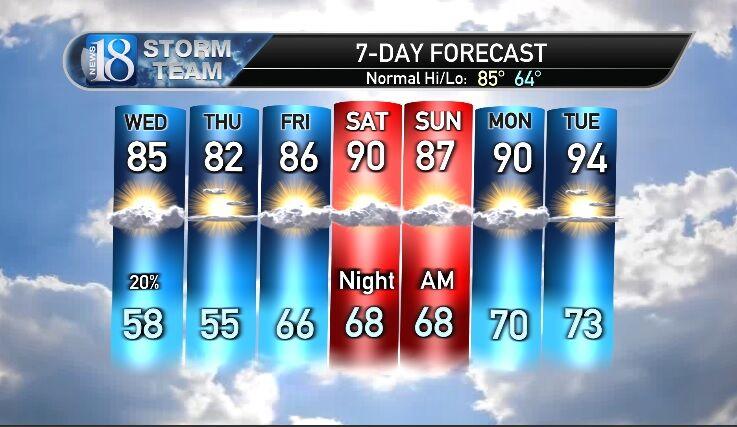 The extreme heat is coming at the end of next week. The trend is for temperatures to eventually peak in the 100-105 viewing zone (with heat indices of 106-115) this July 19-25 general.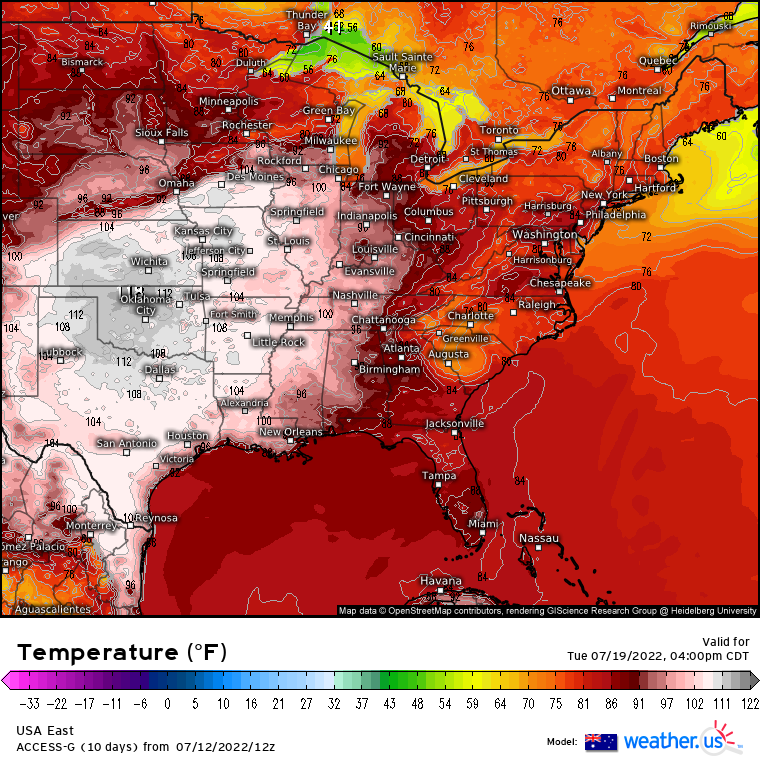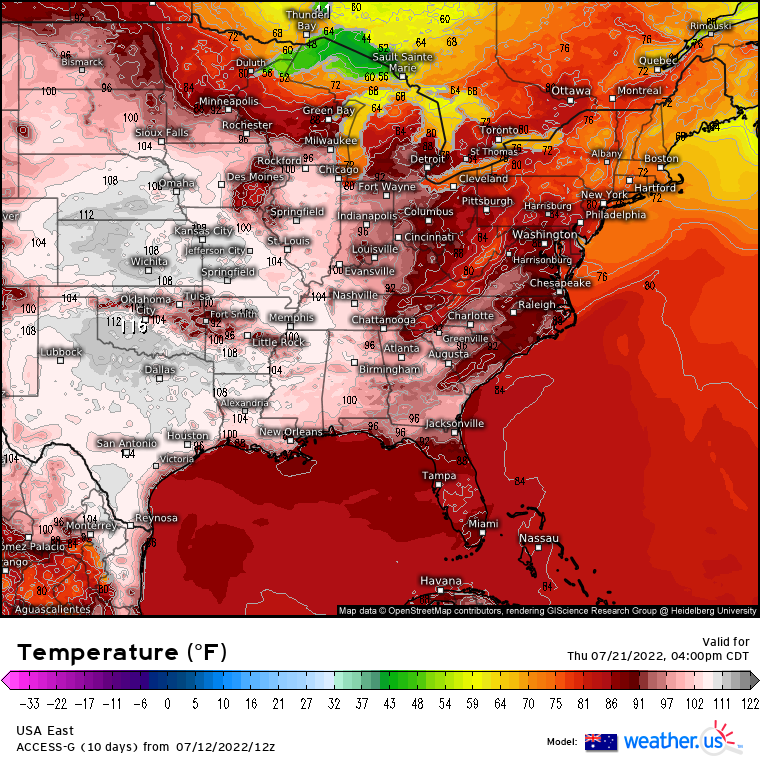 Extremely hot upper ridge with many records broken for heat in Plains and Midwestern contracts over time.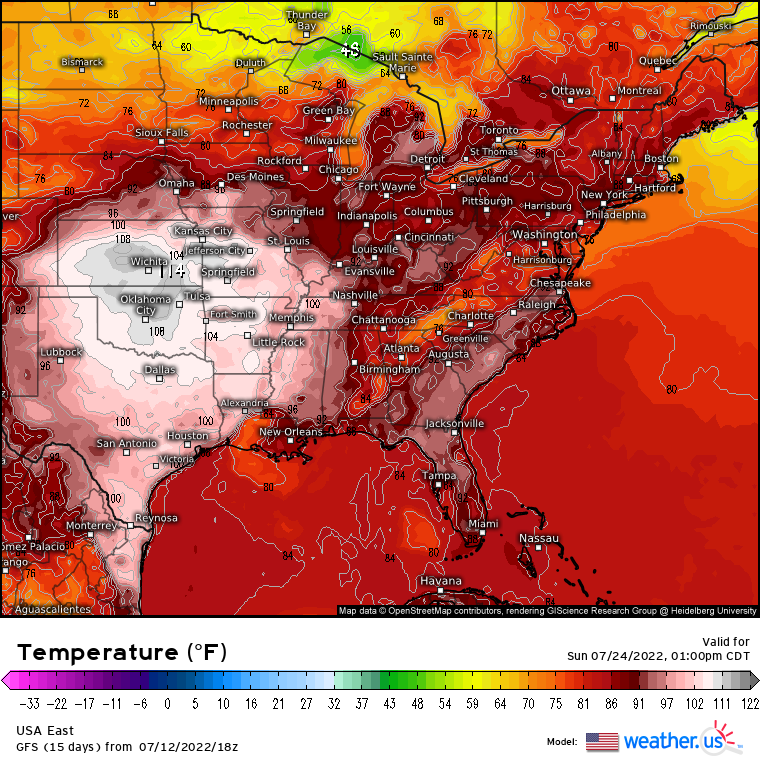 Storms are expected to be strongest and most numerous from northeast Ohio to New England with intense squall line potential with MODERATE HAZARD settings possibly appearing.
Here we can have thunderstorms with LOW RISK settings.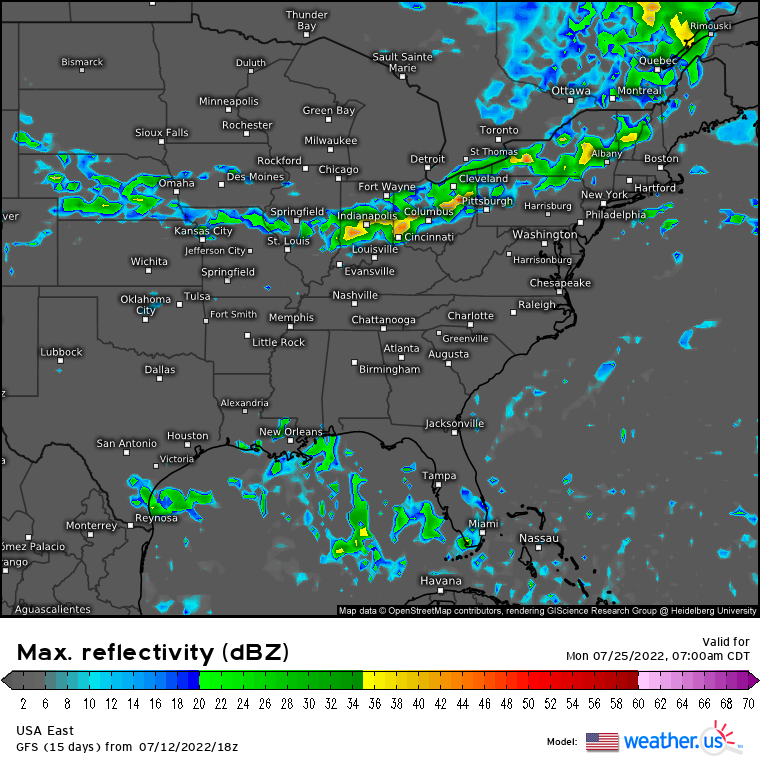 Hot Ridge then contracts significantly for 80 years here by July 26.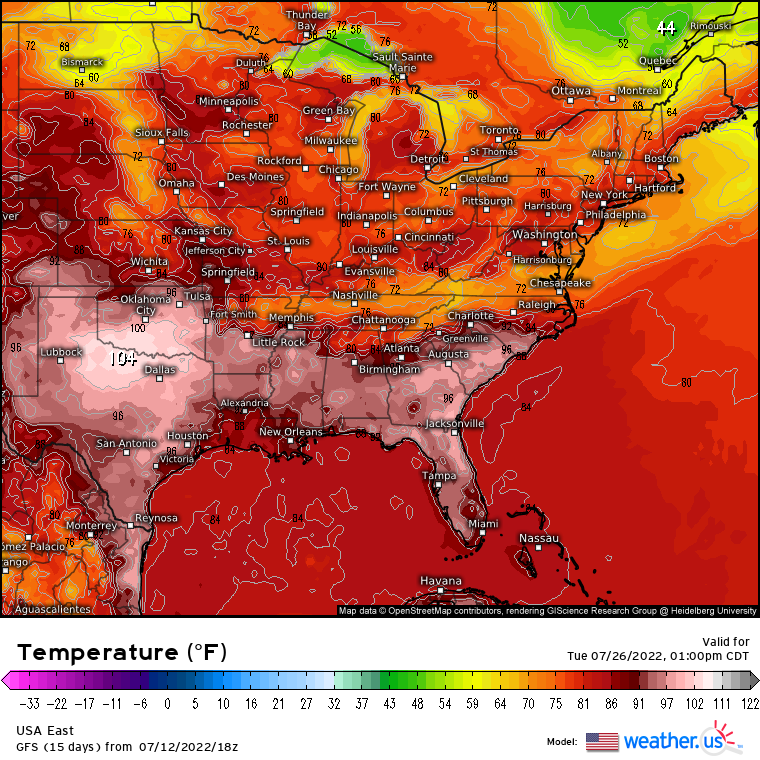 We are dry and cooler (lows into the 50s at times) until the intense heat starts to return in early August.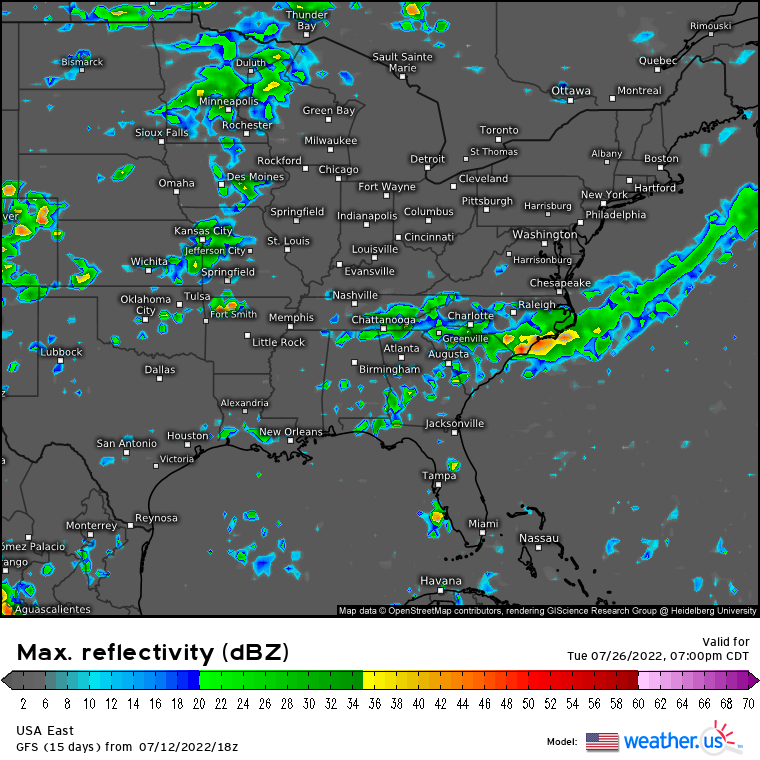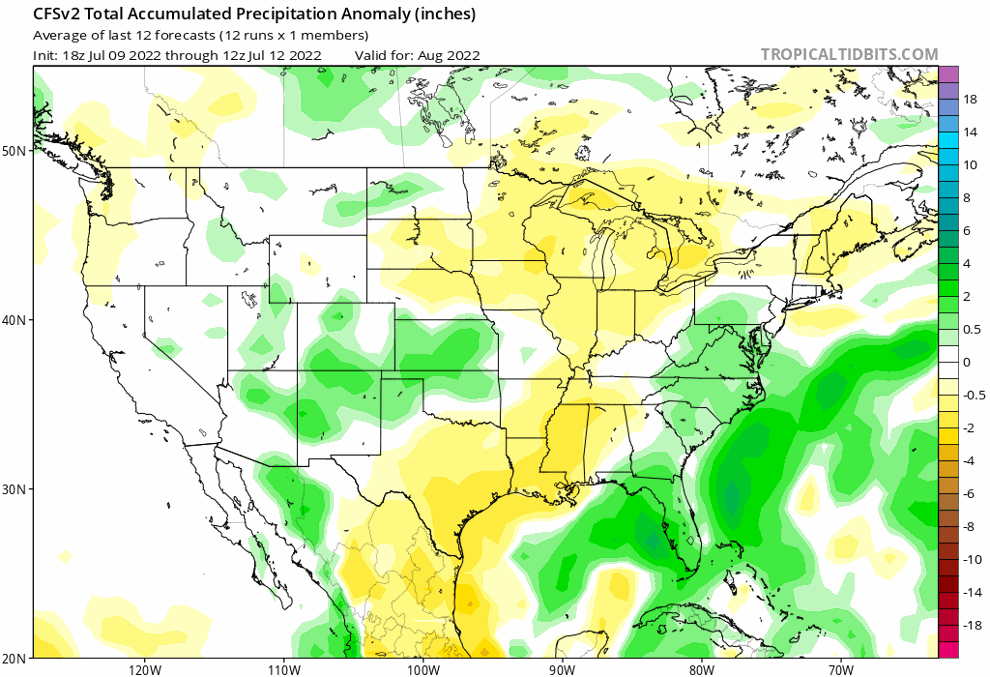 Even drier than normal in August…
& September………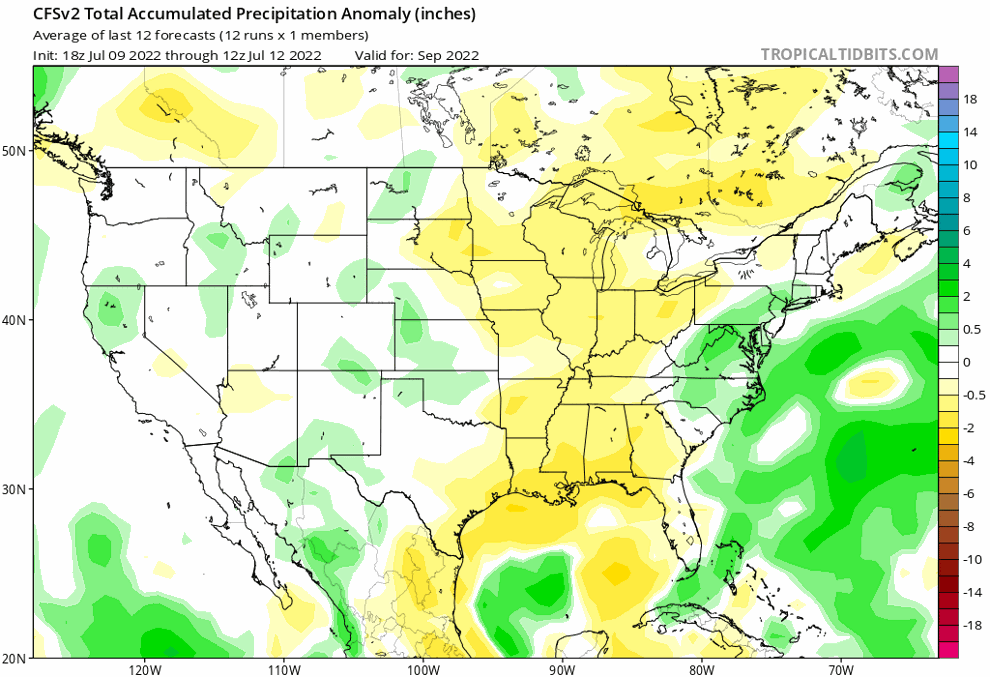 ………..but still much HUMIER in October: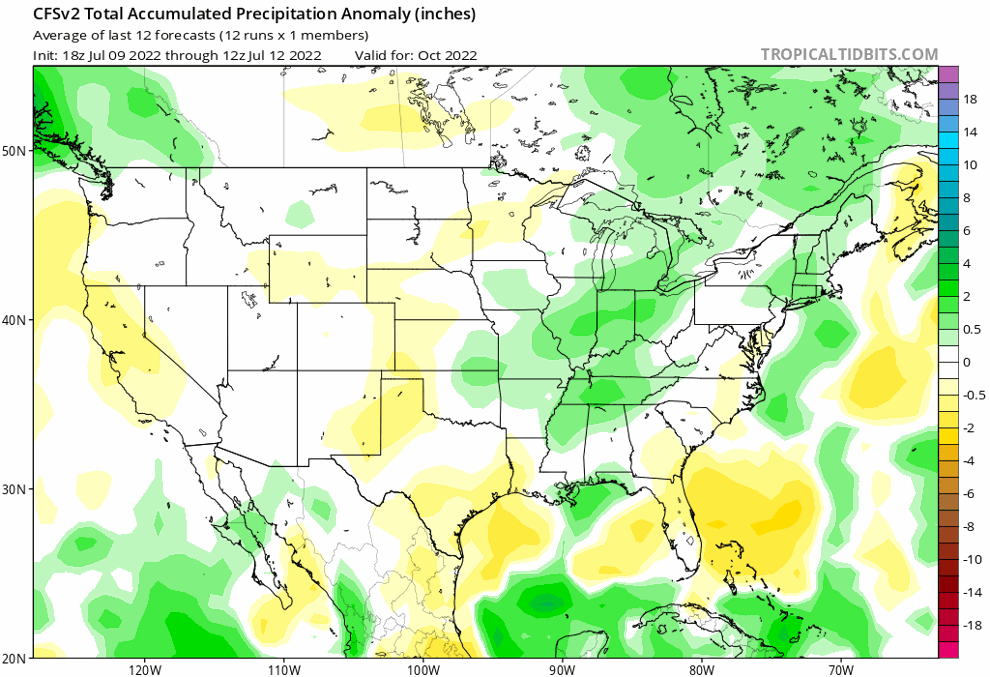 The three months are on average warmer than normal.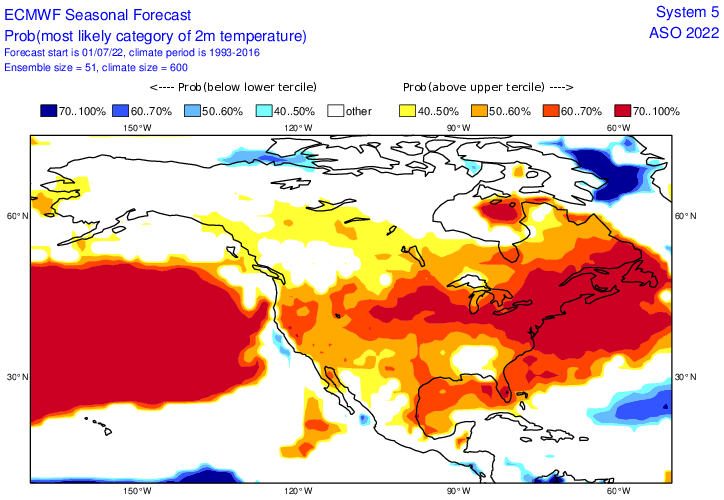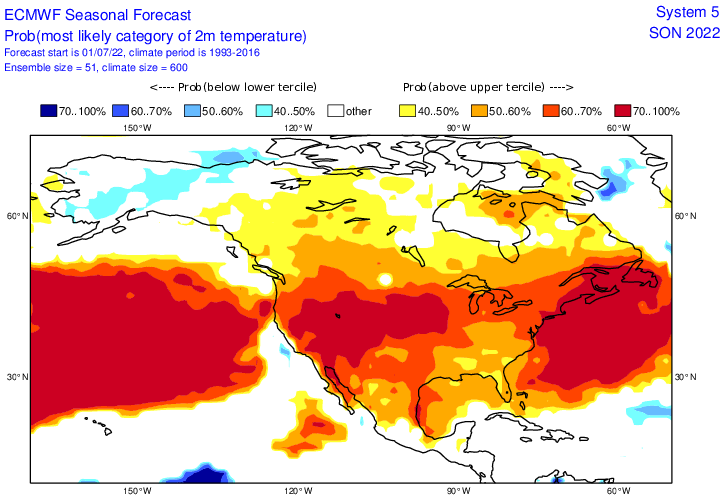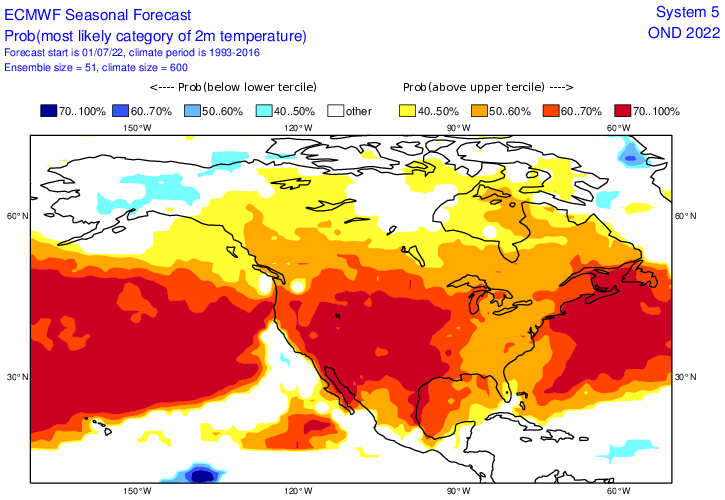 The significant Nina is weakening but seems to be hanging on in early spring.
El Nino is expected to return by the winter of 2023-24, but given the cold phase of AOP, it should be weak to moderate and not a big event.
If we're going to see a bigger 'Nino event then, given the weather history in that regime, it would tend to happen more like 2024-25.
It looks like we are in a cold phase in the central and northeast Pacific with an increased upwelling trend that favors more La Ninas and less El Ninos through 2030.