Dear Line of Action: Recent stories have spoken of an increase in the number of campers living in the National Forest. There is a trailer parked at a US Forest Service campground in La Plata Canyon for over a year. Yes, a year. Its inhabitant obviously lives there, its food and human waste piling up and becoming more than disgusting. He cut down several trees, alive and dead. Recently he welcomed some buddies to camp nearby, also exceeding the 14 day limit. I am told that Forest Service law enforcement and the La Plata County Sheriff's Office contacted him, but he is still there. Which give? – Miffed in Mayday
Dear Miffed: My God, do you remember the good old days when, if you wanted to get away from it all, you could just go up into the mountains and live off the dirt like Jeremiah Johnson? What, don't you remember Jeremiah Johnson? He was a famous mountaineer played by Robert Redford in a recent film. "Recent" meaning the last half-century. Like 1972.
Jeremiah has had some trouble, with crows and black feet on his side, and the military insisting he help them, and wolves and bears to face. But other than that, he had only to trap and fish and learn to warm himself by sleeping on earth poured over hot coals. (Maybe Action Line is mixing up mountain men movies.) It sounded like a lot of fun. Never mind the unwelcome intrusion on traditional Native American lands.
Will "Jeremiah Johnson" – directed by Sydney Pollack and filmed in Utah for that matter – hold up in the 21st century? It wasn't all black and white with "good guys" and "bad guys". Someone is looking at it and reporting to Action Line please.
Today's Jeremiah Johnson's lifestyle in La Plata Canyon is a little different, but not that simple. Kudos to him for surviving up there, but he's definitely breaking some rules and taking up space that others might want to use. And, if that's true, the cutting down of trees and the accumulation of trash is, say, unfortunate.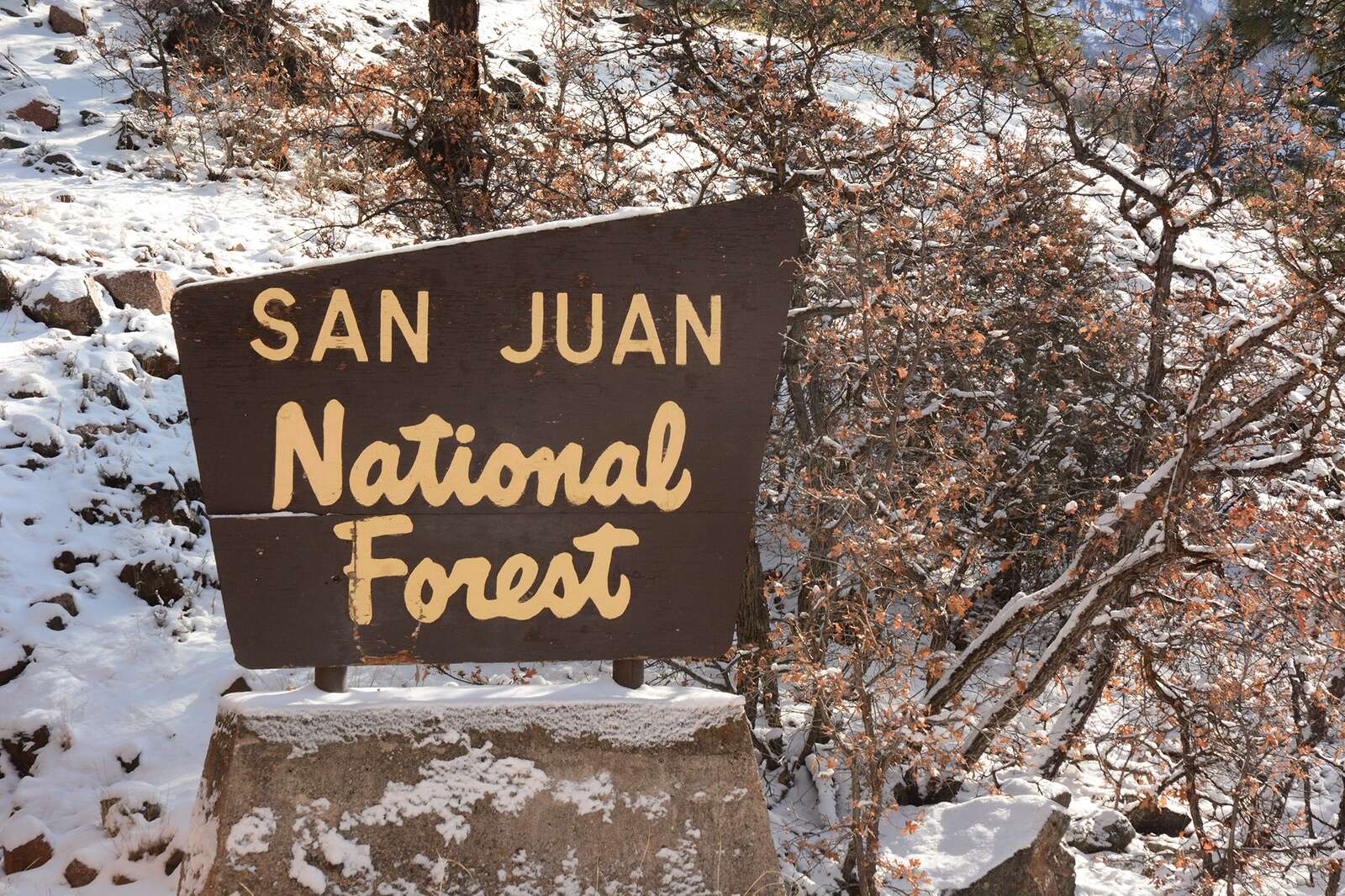 There is a 14-day maximum rule for recreational camping in the San Juan National Forest, but residential use of the National Forest is never permitted under any circumstances. (Adobe Stock)
"Law enforcement has been in contact with the individual and they are working towards the removal of the camp," said Lorena Williams, public affairs specialist and partnership coordinator with the San Juan National Forest. "The vehicle is no longer operational and cannot be driven, and the USFS cannot tow private property."
There is a 14-day maximum rule for recreational camping, but residential use of the national forest is never permitted under any circumstances, she said. La Plata Canyon is in the Columbine Ranger District of the San Juan Forest, where there is a law enforcement officer.
"The current regulations are that a recreational camper can stay a maximum of 14 days in one place," she said. "After 14 days, they have to fly at least 3 air miles, and then they can camp for an additional 14 days. After their 28th day, they must leave the San Juan National Forest.
Residential use of the San Juan National Forest typically occurs out of perceived necessity by those who cannot afford to buy or rent a home – and only in rare circumstances for the same reasons Jeremiah Johnson did. is directed towards the hills. Williams said it was a community issue.
"We are working with law enforcement, human service providers and the community to provide information and support to those in need," she said. "We are also working to better educate the public about the rules regarding camping limitations on national forest lands."
Dear line of action: I very much appreciate the information on the snowpack (average snow-water equivalent) that appears at the bottom of The Herald of Durango's Weather Watch in the print edition. But I find it disturbing and strange that the historical snow water data for the coming months is withheld. The large black box that contains the most recent amount of snow covers the upcoming information in the graph. – Blinded by the box
Dear Blind: Action Line thinks there is a conspiracy and this black box is hiding data the weather service doesn't want you to see. It looks like Herald could be involved too.
Upon closer inspection, a glance at this graph from any vantage point is pretty scary. This black box can't hide it. We haven't had a lot of humidity in recent years. You would need a very large black box to cover this. The 2018-19 winter was pretty good, but other than that the old snowblower was pretty quiet.
the Herald staff have been made aware of the problem and will move the box so that the data, as it is, is more visible. Thank you for your request.
Send your questions and suggestions by email to [email protected] or by mail to Action Line, The Durango Herald, 1275 Main Ave., Durango, CO 81301. "and the reader can use their imagination from there. Or just check out Wikipedia.