Glaciers are the keystones of life on earth. They supply rivers with fresh water and this has the power to influence our lives. You don't always have to fly out of India to see beautiful natural wonders. India is home to many freshwater rivers, which means the north is dotted with glaciers. If you've always been intrigued by glaciers and wanted to see them, here are five places in India where you can see glaciers.
1. Chamoli District in Uttarakhand, Satopanth Glacier
The Satopanth glacier stretches for 13 km and is located in the Chamoli region of Uttarakhand. It has a very enticing trail and is surrounded by majestic snow-capped hills on all sides. This glacier is a paradise for avid hikers and adventurers. The most popular way to reach Satopanth Glacier is from Joshimath to Chamoli.
Also Read: Vatna Glacier in Iceland Will Give You an Answer What Heaven Looks Like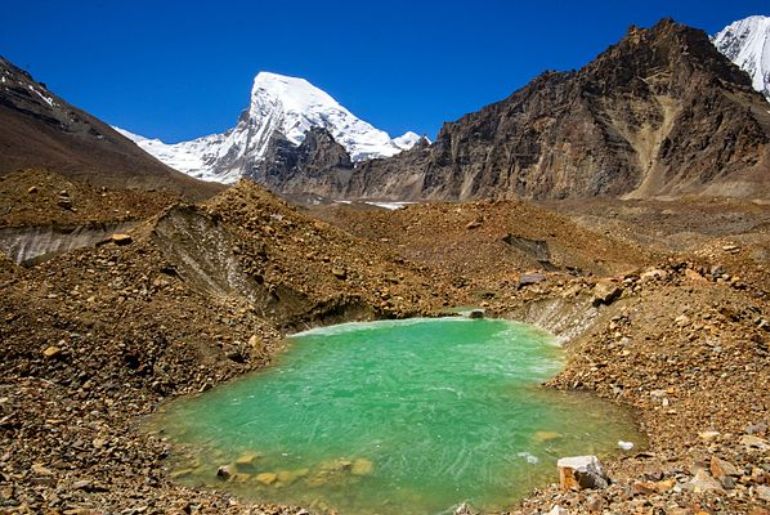 2. Kashmir, Kolahoi Glacier
The Kolahoi Glacier is located at an altitude of 4700m above sea level and it is still an undiscovered gem. The glacier lies about 26 km from the picturesque town of Pahalgam and is nothing short of a natural wonder. This breathtaking glacier can be reached after a short hike that starts in the Aru Valley and crosses the Lidder Valley.
3. Ladakh, Drang-Drung Glacier
The Drang-Drung glacier is accessible by the Kargil – Zanskar road. Located at an elevation of 15,860 feet above sea level. The Drang-Drung Glacier is a long river of ice and snow, the source of the Stod River. A difficult but adventurous 3-day trek from Padum leads to this major attraction in the Zanskar region.
Also Read: Hyderabad to get fancy glass walkway for pedestrians like Glacier Sky Bridge in Canada
4. Pithoragarh District in Uttarakhand, Milam Glacier
Milam Glacier covers an area of ​​37 square km in Pithoragarh district of Uttarakhand. It should be at the top of every hiker's must-do list. The trail from Munsiyari base camp to the glacier is equipped with a special combination of beauty and excitement.
5. Kumaon Region in Uttarakhand, Pindari Glacier
Pindari Glacier sits on the edge of Nanda Devi, which is India's highest peak. The place is abundantly blessed with its natural beauty and has long attracted hikers from all over the world. The glacier is about 9 km long and feeds the Pindar River.
Also Read: You will now be allowed to hike to Kumaon Glaciers from Uttarakhand